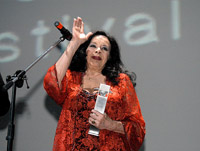 A tribute was rendered at the XXIII edition of the Festival to the Argentinean diva Isabel Sarli who is accountable for the fantasies of a whole generation.
Before the screening of the film Desnuda en la arena, by Armando Bo, Diego Galán, film critic and past director of the San Sebastian Film Festival, conferred Isabel Sarli the Mayahuel.
Sarli is recognized in the Latin America cinema as one of the first actress to undress in front of a camera and was portrayed as a sex symbol in the sixties. Isabel Sarlí is presented at the Festival as an international artist with a vast trajectory and proud of being a promoter of the development of the Latin America film industry.